Every 100 points collected earns you a $5.00 discount in the Mike's Beef Jerky online store! Simply redeem your points when prompted at the check-out during your next purchase.
MIKE'S BEEF JERKY IS SA OWNED & OPERATED
PRODUCED IN THE STATES SOUTH EAST
Locally produced in Robe, South Australia, Mike's Beef Jerky is full flavoured, moist, tender and made from 100% premium Australian beef.
Our beef jerky is naturally wood smoked and retains much of its natural moisture. Mike's Beef Jerky is a fantastic snack alternative – low in fat, high in protein and gluten free.  Customers say Mike's Beef Jerky is the best jerky they have ever tasted!
Friends and family have been enjoying Mike's wood smoked beef jerky for more than 30 years. We are very excited that we are now making this mouth-watering treat available to everyone.
ORDER MIKE'S BEEF JERKY ONLINE FOR DELIVERY IN AUSTRALIA
The making of smallgoods has always been a family affair with Mike, Cindy and their two sons. Originating from Canada and relocating to Australia some 20 years ago, the tradition continues. Perfecting the flavours and texture in their beef jerky has taken centre stage, attracting a following from near and far.
With three delicious flavours, Original, Black Pepper and Chilli available, and $12.00 flat rate shipping on all orders across Australia, order Mike's Beef Jerky today and see why this unique, full flavoured treat is so popular.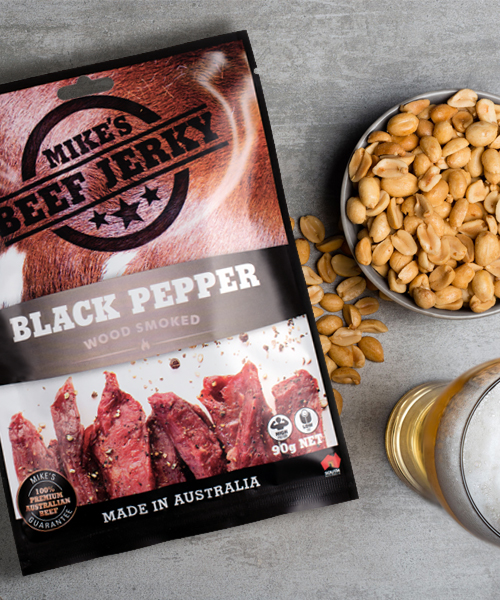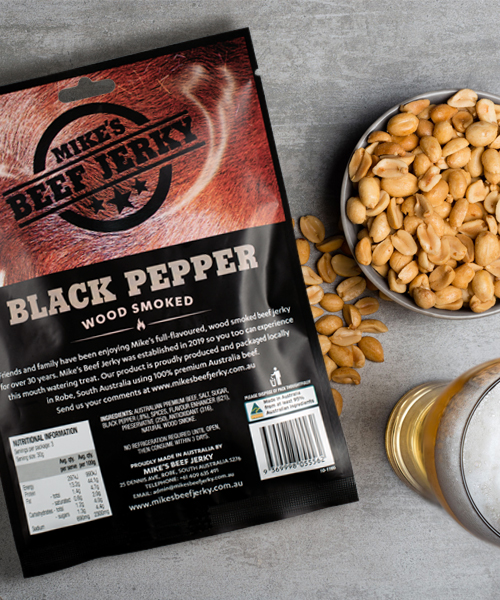 $12.00 FLAT RATE SHIPPING ON ALL ORDERS ACROSS AUSTRALIA
WHAT OUR CUSTOMERS THINK OF MIKE'S BEEF JERKY
"The BEST jerky around, coming from someone who wasn't a jerky fan. Love the subtle kick of black pepper or the nose clearing chilli. The kids love the original flavour. Excellent quick service too, ordered on Tuesday delivered Friday. Cheers to Mike & Cindy for getting us hooked on beef jerky".
"An addiction I never expected during isolation….but WOW! What amazing, intense flavour. Definitely a winner".
"Mike's Beef Jerky would have to be the very best".
"Tried your Beef Jerky at Pirate Life Brewery and loved it!!"
"We were on holidays in Robe this year and discovered the most amazing beef jerky – Mike's Beef Jerky!!"